NEW!
1/537 Refit Interior Photoetch Set
1/537 scale
Available for Preorder
Temporarily Out of Stock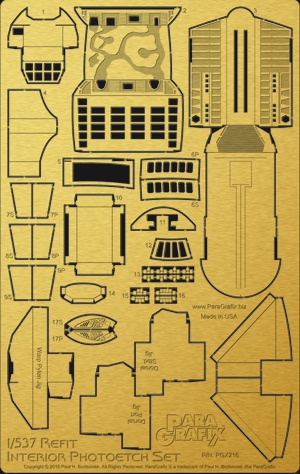 Expected ship date: on or about October 5, 2018.
For the classic 1/537 scale USS Enterprise from "Star Trek: The Motion Picture". This 0.01" thick photoetched brass set includes three interior spaces of the ship: the officers lounge, the arboretum, and the shuttle bay.
The lounge and arboretum also include window frames to help make these areas visible. The lounge also includes in-scale seating.
The shuttle bay includes replacements for the ship's transom (with through etched areas suitable for lighting*) and retracted door sections.
All three rooms include provisions for overhead lighting*.
Also included are five jigs to help position main components of the ship (primary hull, dorsal, secondary hull, warp engines, and pylons) properly.
* Electronics not included.
FOR KIT: AMT1080, AMT S970 and other classic releases
Pricing & Ordering — This item is temporarily out of stock
This item is on Preorder status. Sending in the following form is a commitment to purchase at the price stated below. When the item is in stock and ready to ship, you will be sent a PayPal invoice. Payment of this invoice is required within 7 days to retain preorder priority.
Please note that because of logistics, at this time ParaGrafix does not accept preorders via any method other than a PayPal commitment. We appologize for the inconvenience.
Click Here for the Preorder Email Form.
<! -- Sale Specification Settings -->
Price:

$42.95

Part #:

PGX216

Scale:

1/537

Please allow 0 to 1 weeks for availability. This delay will not affect any other products you order in this session.

SHIPPING: This product ships at our standard shipping rate. See rate information and policies here.

WHOLESALE: This item is available for quantity sales at wholesale pricing. Contact ParaGrafix for details.

Click on a photo to enlarge.