<! -- Sale Specification Settings -->
DeAgostini Falcon Hold Photoetch Set
1/43 scale
Available for Preorder
Temporarily Out of Stock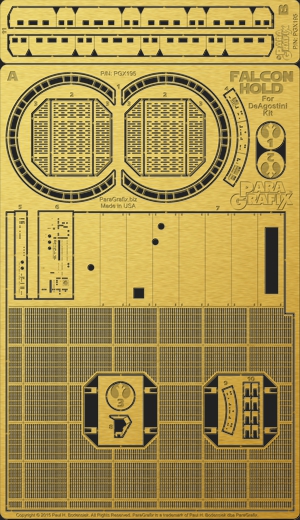 Super detail the main hold of DeAgostini's Millennium Falcon subscription kit.
The floor is the exact pattern, down to the number of grid patterns in each section, as well as the seriously tiny holes (12 per rib). Also, the two maintenance hatchways can be removed and there are brackets to mount the I-beams that are sometimes in place.* The floor can be installed without any modification to the kit part - if the maintenance hatchways are to be displayed open, then some surgery will be required to remove the area underneath them.
The two door rings have the correct pattern, including the raised ribs between each lightening hole.
The main control panel is setup for easy lighting, just like the cockpit.**
Also included are the control panels behind the banquette seating (where the chess game is played), as well as the small one that goes at the end of the banquette where the last three seat back sections should be left off the kit.
* Evergreen plastic pieces, item 274, not included.
** Electronics not included.
FOR KIT: DeAgostini Subscription
Pricing & Ordering — This item is temporarily out of stock
This item is on Preorder status. Sending in the following form is a commitment to purchase at the price stated below. When the item is in stock and ready to ship, you will be sent a PayPal invoice. Payment of this invoice is required within 7 days to retain preorder priority.
Please note that because of logistics, at this time ParaGrafix does not accept preorders via any method other than a PayPal commitment. We appologize for the inconvenience.
Click Here for the Preorder Email Form.
Price:&nbsp

$59.95

Part #:

PGX195

Scale:

1/43

Please allow 8 to 9 weeks for availability. This delay will not affect any other products you order in this session.

SHIPPING: This product ships at our standard shipping rate. See rate information and policies here.

WHOLESALE: This item is available for quantity sales at wholesale pricing. Contact ParaGrafix for details.

You might also be interested in:

Click on a photo to enlarge.