<! -- Sale Specification Settings -->
Deckard's Sedan / Police Car No. 27
1:24 scale
Available for Preorder
Temporarily Out of Stock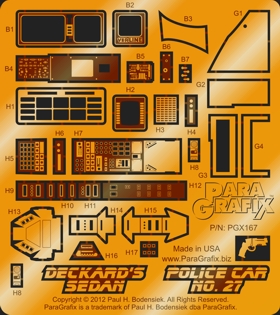 Super-detail the interior of the Blade Runner Deckard's Sedan or Police Car No. 27 from Fujimi. Set includes options for building either the full, driving car seen on exterior shots (parts B) or the "hero" interior used to film the scenes with the main characters in the car (parts H).
Backlight films are included for the computer / dashboard displays, with many options for what to display.
In addition, brass cutting templates are included to open up missing windows, and also cut clear plastic (not included) to add the glass.
Please see our library of reference photographs HERE.
FOR KIT: Fujimi 091365
Pricing & Ordering — This item is temporarily out of stock
This item is on Preorder status. Sending in the following form is a commitment to purchase at the price stated below. When the item is in stock and ready to ship, you will be sent a PayPal invoice. Payment of this invoice is required within 7 days to retain preorder priority.
Please note that because of logistics, at this time ParaGrafix does not accept preorders via any method other than a PayPal commitment. We appologize for the inconvenience.
Click Here for the Preorder Email Form.
Price:&nbsp

$23.95

Part #:

PGX167

Scale:

1:24

Please allow 2 to 3 weeks for availability. This delay will not affect any other products you order in this session.

SHIPPING: This product ships at our standard shipping rate. See rate information and policies here.

WHOLESALE: This item is available for quantity sales at wholesale pricing. Contact ParaGrafix for details.

You might also be interested in:

Click on a photo to enlarge.