<! -- Sale Specification Settings -->
USS Enterprise (2009) Photoetch Set
1/500 scale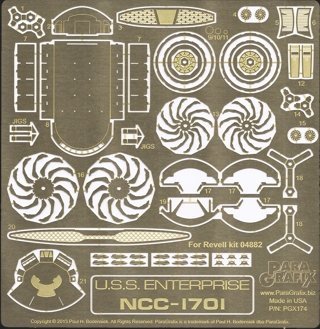 For the "Star Trek" (2009) and "Star Trek Into Darkness" USS Enterprise kit from Revell GMBH.
Add extra photoetched details to the Starship Enterprise, including:
Warp engine Bussard collector blades.
Impulse engine grills suitable for lighting*. Includes grills for both the original impulse deck and the "refit" deck added at the end of "Star Trek Into Darkness"**.
Complete shuttlecraft hangar, including shuttlecraft.
Field sensor grills suitable lighting.
An insert for the bridge area to add depth to the window.
* Electronics not included.
** Refit impulse deck compatible with the resin piece from Brad Hair Productions. Sold separately.
FOR KIT: Revell GMBH 08442
Pricing & Ordering