<! -- Sale Specification Settings -->
Space Clipper Photoetch Set
1:160 / 1:190 scale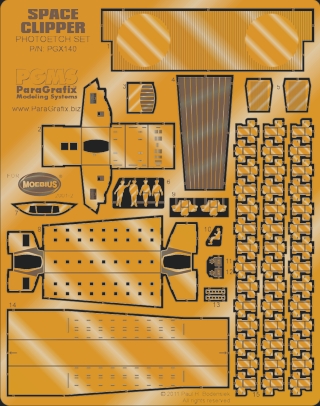 Add an interior to the Space Clipper from Moebius Models!
This highly detailed photoetched set includes the passenger cabin and cockpit for the Space Clipper from the film classic 2001: A Space Odyssey.
Two piece passenger cabin, plus 38 chairs, the stewardess* and even Heywood Floyd.
The multi-level cockpit, complete with two seated pilots and a third standing pilot.
Window frames for the kit's featureless cockpit window.
All doors may be modeled open or closed.
Suitable for lighting, with all set-piece lighting areas (electronics not included).
Exterior details include ribbing for the logo area, and four small details missing from the kit.
* The stewardess was rotoscoped directly from the film and has the classic "zero-G" body language.
FOR KIT: Moebius #2001-2 or Classic Aurora/Airfix
Pricing & Ordering