<! -- Sale Specification Settings -->
Proteus Photoetch Set
1/32 scale
Available for Preorder
Temporarily Out of Stock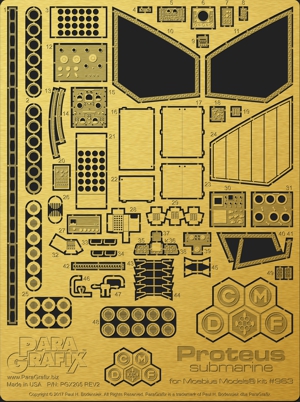 Update every control panel on Moebius Models' new Proteus Submarine kit from the classic SF film "Fantastic Voyage".
In addition to all of the control panels (all that light in the movie set can be lit*), this photoetch set also contains:
Backlight films to simulate the various lit gauges and displays.
Two styles of air vents so the builder can decide to use the easier, less accurate ones or the two part, very accurate ones.
The missing "elevator buttons" panel.
Templates to create more accurate front interior sidewalls.
Cabinet doors for the laboratory area, including an alternate set if the builder fixes the length of one cabinet.
Window frames with rivets for the laboratory's exterior window frames.
Frames with rivets for the rudder.
Replacement rudder that can be positioned (one time only).
Tracks (non-working) for the airlock door, plus replacement airlock door handles.
Open-holed area for the map cabinet.
Foot pedals for the pilot's station.
Two versions of the laboratory's faucet.
Light masking panel for the "ring lights" around the cockpit with easy-to-bend etched pattern.
* Electronics not included.
FOR KIT: Moebius 963
Pricing & Ordering — This item is temporarily out of stock
This item is on Preorder status. Sending in the following form is a commitment to purchase at the price stated below. When the item is in stock and ready to ship, you will be sent a PayPal invoice. Payment of this invoice is required within 7 days to retain preorder priority.
Please note that because of logistics, at this time ParaGrafix does not accept preorders via any method other than a PayPal commitment. We appologize for the inconvenience.
Click Here for the Preorder Email Form.
Price:&nbsp

$41.95

Part #:

PGX205

Scale:

1/32

Please allow 2 to 3 weeks for availability. This delay will not affect any other products you order in this session.

SHIPPING: This product ships at our standard shipping rate. See rate information and policies here.

WHOLESALE: This item is available for quantity sales at wholesale pricing. Contact ParaGrafix for details.

Click on a photo to enlarge.