<! -- Sale Specification Settings -->
TOS Enterprise Primary Hull Deflector Grid Compass
1/350 scale
Available for Preorder
Temporarily Out of Stock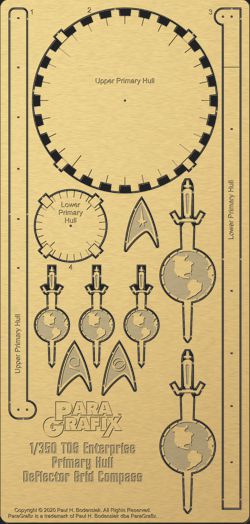 Polar Lights' retooled smooth primary hull for their 1/350 scale Original Series U.S.S. Enterprise is far more accurate than the one with engraved panel lines. It does, however, present a challenge for modelers: how to get the panel lines (AKA deflector grid lines) drawn onto the hull like they are on the filming miniature.
This set of two compasses solves that problem by having precisely located pencil holes for the grid circular lines: simply tape the centering plates in the hull openings, mount the compass beam using the included T-pin and draw the concentric circles. Then, switch the T-pin to the other hole in the beam, align the edge with the integral protractor, and draw the radial lines.
BONUS: Includes "Mirror Universe" Empire emblems for the ship, precisely scaled from the decals included in Polar Lights' 1/1000 scale kit, as well as insignia for the three branches of Star Fleet service.
Please Note: This set requires annealing the brass of the two long pieces so that they can be contoured to fit the shape of the primary hull. If you are unfamiliar with annealing, please watch our video HERE.
FOR KIT: POL880 and other releases
Pricing & Ordering — This item is temporarily out of stock
This item is on Preorder status. Sending in the following form is a commitment to purchase at the price stated below. When the item is in stock and ready to ship, you will be sent a PayPal invoice. Payment of this invoice is required within 7 days to retain preorder priority.
Please note that because of logistics, at this time ParaGrafix does not accept preorders via any method other than a PayPal commitment. We appologize for the inconvenience.
Click Here for the Preorder Email Form.
Price:&nbsp

$38.95

Part #:

PGX232

Scale:

1/350

Please allow 8 to 9 weeks for availability. This delay will not affect any other products you order in this session.

SHIPPING: This product ships at our standard shipping rate. See rate information and policies here.

WHOLESALE: This item is available for quantity sales at wholesale pricing. Contact ParaGrafix for details.

Click on a photo to enlarge.