<! -- Sale Specification Settings -->
Spinner Photoetch Set
1:24 scale
Available for Preorder
Temporarily Out of Stock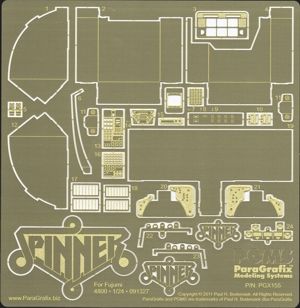 Add easily lit control panels to the superb Spinner kit from Fujimi. Photoetch accurately depicts the control panels of the full scale "hero" interior, not the filming miniature as the kit does.
In addition, this set provides a replacement for the interior's rear wall giving access to the rear windows, plus the missing foot wells so that the floor windows don't open into the body of the car. The walls are specially made to be easy to fold using just finger pressure - no photoetch bending tool required.
Self-adhesive vinyl cutting masks by Aztek Dummy make modifying the floor pan to include the foot wells a breeze.
Contains lightable transparency films with graphics as shown in the film.
BONUS: Three different sizes of the "Spinner" logo that can be used for displaying the model.
FOR KIT: Fujimi #4800
Pricing & Ordering — This item is temporarily out of stock
This item is on Preorder status. Sending in the following form is a commitment to purchase at the price stated below. When the item is in stock and ready to ship, you will be sent a PayPal invoice. Payment of this invoice is required within 7 days to retain preorder priority.
Please note that because of logistics, at this time ParaGrafix does not accept preorders via any method other than a PayPal commitment. We appologize for the inconvenience.
Click Here for the Preorder Email Form.
Price:&nbsp

$35.95

Part #:

PGX155

Scale:

1:24

Please allow 8 to 9 weeks for availability. This delay will not affect any other products you order in this session.

SHIPPING: This product ships at our standard shipping rate. See rate information and policies here.

WHOLESALE: This item is available for quantity sales at wholesale pricing. Contact ParaGrafix for details.

You might also be interested in:

Click on a photo to enlarge.