<! -- Sale Specification Settings -->
8 Window Seaview Photoetch Set
1:128 scale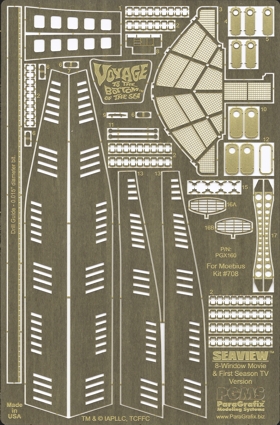 New for the upcoming 8-Window Seaview model from Moebius Models, this photoetch set adds exacting details to an already fantastic kit.
Made from 0.010" brass, enhancements include:
Replacement floor for the upper-level of the observation lounge.
Accurate raised limber holes based on rubbings from the actual 17' filming miniature.
The little known lower drain holes.
Replacement grab handles make assembly and seam filling easier. (Includes a drilling guide to ensure even spacing.)
The docking cleats seen on the full-sized set.
Replacement sail doors to replicate the full-sized set. (Includes an extra door that can be displayed open.)
Two different radar dish antennas replicating the studio drawing and the final dish configuration.
Tie rods to link the three rudders.
The credenza and Seaview display model seen in the observation lounge during the first season of the series.
Ceiling girders for the observation lounge to hide the kit's inner hull while still allowing builder supplied lighting to shine in. (Works great with ParaGrafix's Easy LED.)
BONUS: A "Voyage to the Bottom of the Sea" medallion that can be applied the model's display stand.
FOR KIT: Moebius #708
Pricing & Ordering