<! -- Sale Specification Settings -->
M.L.E.V.-5 Photoetch Set
1/32 scale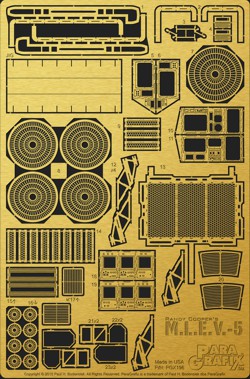 Enhance Pegasus Hobbies' amazing kit of the M.L.E.V.-5 (Mars Lunar Exploration Vehicle) with photoetched details and backlighting films designed in conjunction with kit designer Randy Cooper.
This set includes:
Replacement entry ladders, including railings and a "front porch".
An easy-to-use jig to help ensure that the ladders are assembled true and square.
New control panels with through holes and corresponding backlight films for easy lighting. If not being lit, the main displays are designed to use the kit's decals instead of the films.
Life support system air vents.
Tracks for the two command chairs.
Heads up displays for both piloting stations.
Rocket nozzle inserts that give the appearance of exhaust turbines.
Computer keyboards for each piloting station.
Diffusion pattern for the rear lighting panel to simulate a standard fluorescent lighting fixture.
Use these Printable Templates rather than cut up the instructions.
FOR KIT: Pegasus 9125
Pricing & Ordering