<! -- Sale Specification Settings -->
NEW!
Galileo Shuttle Photoetch Set
1/32 scale
Available for Preorder
Temporarily Out of Stock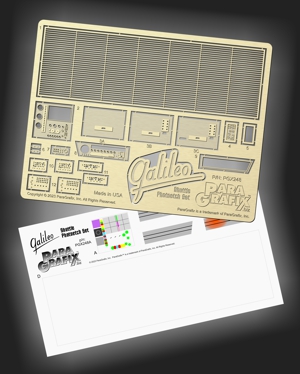 Expected to ship in Mid-October 2023.
Super detail the control panels of Polar Lights' Galileo Shuttle interior kit.
This set includes:
Photoetched control panels with through holes to make lighting* easy.
The side panels are laid out to work with the existing kit decals.
Three versions of the center controls so builders can construct their favorite of the three versions shown in various episodes.
Backlight films for the three main control panels.
Three versions of the right-hand control panel film so builders can customize the display as they desire.
Photoetch for the overhead lighting panel along with backlight film to help smooth out the lighting and avoid hot spots.
* Electronics not included.
FOR KIT: Polar Lights MKA053
Pricing & Ordering — This item is temporarily out of stock
This item is on Preorder status. Sending in the following form is a commitment to purchase at the price stated below. When the item is in stock and ready to ship, you will be sent a PayPal invoice. Payment of this invoice is required within 7 days to retain preorder priority.
Please note that because of logistics, at this time ParaGrafix does not accept preorders via any method other than a PayPal commitment. We appologize for the inconvenience.
Click Here for the Preorder Email Form.
Price:&nbsp

$36.95

Part #:

PGX248

Scale:

1/32

Please allow 7 to 8 weeks for availability. This delay will not affect any other products you order in this session.

SHIPPING: This product ships at our standard shipping rate. See rate information and policies here.

WHOLESALE: This item is available for quantity sales at wholesale pricing. Contact ParaGrafix for details.

Click on a photo to enlarge.