<! -- Sale Specification Settings -->
NEW!
1/35 Scale Chariot Photoetch Set
1/35 scale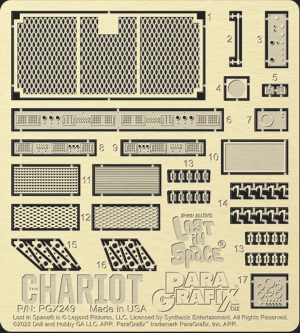 Enhance the new 1/35 scale Lost in Space Chariot with this super-detailed brass photoetch set. ALPS printed decals with metallic accents make painting a breeze.
This set provides replacement or enhanced details for:
All dashboard controls
Replacement door handles
Two sets of radiator grills — one set with through holes and the other solid
Support girders for the dish antenna
Template and girders to create a more accurately shaped dish antenna
Cover for the scanner antenna / solar cell
Even Robotís missing power pack!
FOR KIT: D&H DHG1410
Pricing & Ordering