<! -- Sale Specification Settings -->
Classic 1960s, 70s, and 80s Control Panels, Set 1
1:32/1:35 scale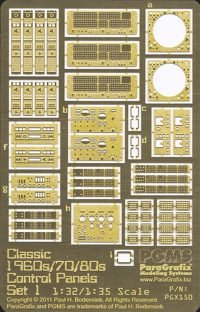 1:32/1:35 Scale
Ideal for diorama makers and scratch builders, these photoetched parts duplicate many of the control consoles used in nearly every science fiction film and television show of the 1960s, '70s, and '80s.
Many of the original pieces were surplus and obsolete computer systems of the USA's nationwide air traffic control system, and the hundreds of blinking lights, flip switches, and radar scopes added an air of high technology to those early programs.
Examples can be seen in Batman (Adam West series), Planet of the Apes (film and TV series), all Irwin Allen productions, Fantastic Voyage, The President's Analyst, and many, many others, including the Tracy/Hepburn classic, Desk Set.
In addition to the photoetched pieces, this set includes backlight films for the larger displays and meters. This set is made from 0.010" brass and include through holes that make lighting simple* and add to the realism.
* Electronics not included
Pricing & Ordering