<! -- Sale Specification Settings -->
Easy LED - 30cm (warm white)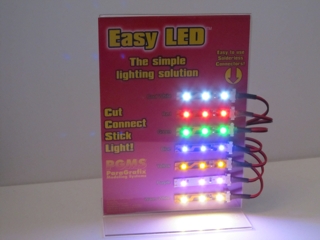 WARM WHITE
Finally, an easy way to light models. No more fiddling with resistor calculations or complicated circuit boards. Just cut, connect, and light!
Warm white simulates incandescent lighting
30cm (approximately 1 foot) long
Extremely bright when operated at 12 volts.
Brightness can be changed by using different voltages - suitable for 9 to 12 volts, DC.
Can be cut at 50mm (2 inch) increments.
Integrated 3M pressure sensitive adhesive makes attaching it nearly any model quick and simple.
Suitable for all types of models from spacecraft. To armor to aircraft.
Now available in Cool White, Warm White, Red, Green, Blue, Yellow, and Purple.
Pricing & Ordering