<! -- Sale Specification Settings -->
EVA Pod Photoetch Set
1/8 scale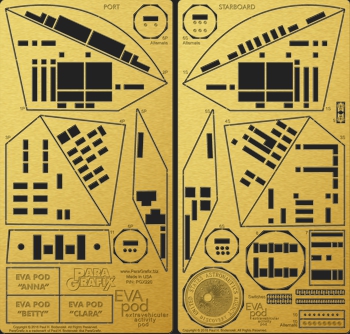 Make lighting* and decaling the interior of Moebius Models' new EVA Pod a breeze with this new photoetch set.
Each button and display screen is perfectly duplicated in opaque photoetched brass – simply paint, apply decals, and adhere to the kit control panels to ensure perfect light blocking of even the brightest backlighting. The etch fits around the kit's buttons and display screens so that the raised buttons retain their height.
Since each piece is perfectly flat, decal application is far easier than having to pre-cut the films to fit around the kit's large raised buttons.
Includes toggle switches, name placards for Discovery's three EVA pods, as well as alternate pieces for the two forward circular control panels, the communications switch panel.
Contains two large 4.4 x 8.5 inch frets of 0.01" thick brass.
Lit photos below were taken on a light table and show only how the brass blocks the lighting.
* Electronics not included.
FOR KIT: Moebius 2001-4
Pricing & Ordering