<! -- Sale Specification Settings -->
Easy LED HD - 60cm (yellow)
Available for Preorder
Temporarily Out of Stock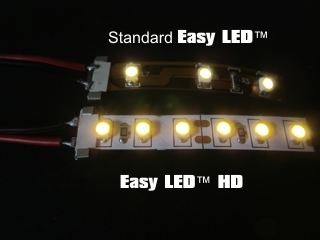 WE ARE CURRENTLY UNABLE TO SOURCE THIS ITEM. WE CAN NOT GUARANTEE WHEN WE WILL HAVE IT BACK IN STOCK.
Yellow
With twice the LEDs and sections half as long, now it's easy to fit lighting into even smaller parts of your models or add twice as many lights in the same amount of space.
No more fiddling with resistor calculations or complicated circuit boards. Just cut, connect, and light!
60cm (approximately 2 feet) long
Super-small and flexible.
Extremely bright when operated at 12 volts.
Brightness can be changed by using different voltages - suitable for 9 to 12 volts, DC.
Can be cut at 25mm (1 inch) increments.
Integrated 3M pressure sensitive adhesive makes attaching it nearly any model quick and simple.
Can be used in the same circuit as any other Easy LED strip.
Suitable for all types of models from spacecraft to armor to aircraft.
Pricing & Ordering — This item is temporarily out of stock
This item is on Preorder status. Sending in the following form is a commitment to purchase at the price stated below. When the item is in stock and ready to ship, you will be sent a PayPal invoice. Payment of this invoice is required within 7 days to retain preorder priority.
Please note that because of logistics, at this time ParaGrafix does not accept preorders via any method other than a PayPal commitment. We appologize for the inconvenience.
Click Here for the Preorder Email Form.
Price:&nbsp

$11.95

Part #:

PLD-Y-HD-0.6

Please allow 50 to 51 weeks for availability. This delay will not affect any other products you order in this session.

SHIPPING: This product ships at our standard shipping rate. See rate information and policies here.

WHOLESALE: This item is available for quantity sales at wholesale pricing. Contact ParaGrafix for details.

You might also be interested in:

Click on a photo to enlarge.